Pure Finest Volumising Powder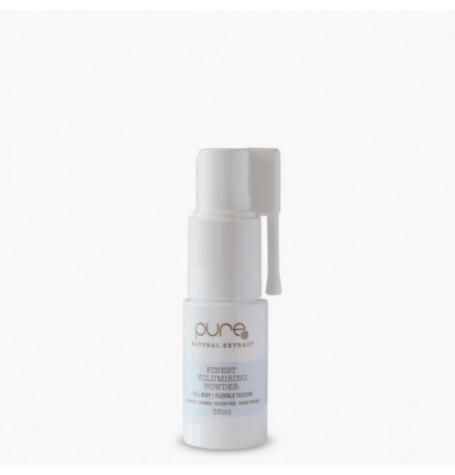 Finest Volumising Powder
FULL BODY / FLEXIBLE TEXTURE
• Creates full body with flexible, invisible, natural looking texture.
• Full body styling power.
• Flexible texture.
• Direct application unique to Pure, dispense soft micro natural rice starch particles.
• Neutral colour to blend with all hair shades.
MEDIUM CONTROL / LOW SHINE
How to use, puff the powder into the roots of the hair and to activate te powder genlty rub into the hair.
Available to purchase from Kayla's Expertease Hair Salon or on our website kaylasexpertease.com.au
Check out our reviews to see what others have said about how much they love Pure Finest Volumising Powder.
FREE SHIPPING on all orders over $120.
THE PERFECT BALANCE OF NATURE AND SCIENCE
Our Pure range of products are blended with naturally derived ingredients which have been carefully researched to substitute more traditional synthetic ingredients. Our aim is to develop a safer, more gentle, environmentally friendly haircare regime.
Creating natural haircare solutions without compromising performance has played a key role in the success of our brand. This approach keeps Pure Haircare at the forefront of 'free from' and natural haircare solutions.
Our formulas use modern, clean and green ingredients. We have developed and continue to develop safe, gentle and sustainable products, with Pure products using organic ingredients that are 100% certified. We strive to achieve the perfect balance of nature and science, substituting synthetic ingredients with natural plant-based alternatives.
PURE PRODUCTS USE
• Natural ingredients of natural origin
• Organic ingredients are '100% certified'
• Biodegradable ingredients
• Sustainable practices
• Recyclable packaging
• Soy inks
• Vegan friendly formulations
• No animal testing
• No sulphates and parabens
• No microbeads
• No formaldehyde
• No PEG
• No genetically modified ingredients
• Gluten free formulations