Juuce Love Copper Coloured Conditioner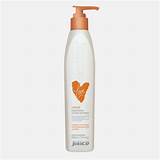 Copper
IDEAL TO ENHANCE / ADD COPPER TONES
Instant hair colour + nourishing treatment adds copper tones to hair. Enhances existing copper tones or reduces cool tones. Will achieve a salmon blonde colour over blonde hair in 3 minutes or less.
 Juuce Products are proudly Australian Made and Owned.
and cruelty free. If you want a clear conscience while achieving the ultimate in hair care performance then you need Juuce!